mSalesApp is a Sales Force Automation App, which has been used by its customers for over 10 years. Headquartered in Melbourne, Victoria, and a growing team and partners, our aim is to empower distributors and companies with outside sales representatives to build a profitable business and keep their customers happy.
Would you like to sell more and close sales faster?
Would you like to have real-time information at your fingertips to make quick decisions ahead of your competition?
Do you want to build long-lasting relations with your customers?
We are here to help! Team up with us and discover the next generation of tools for the sales representatives.
mSalesApp is a sister company of Peercore, which has been working across industries and technologies during the past two decades with clients like Peerless Foods, Cookers, Edlyn Foods, Terry's Tortes & Treats and Grandfoods.
Innovation, the heart of our strategy
Innovation is the core of our business. We want to provide the best user experience of the market, and to achieve that, we work closely with our customers to launch constant updates and features according to their needs.
Our purpose is to make all the processes simpler so you can focus on your core business.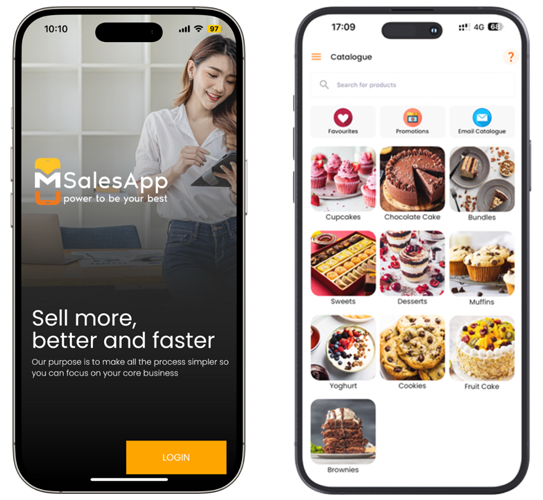 Great software, and the team at msales always listens to your feedback and always improving.

Pros: The promo engine is where Msales hands down stands out from any other mobile sales software I have implemented. Covers all the scenarios we can think of with any promo deals. Easy to use, administrate & implement, I highly recommend it.

Cons: None I can think of at the moment. If there was any they have addressed them with new features and improvements.

Luke M.


General Manager
Information Technology and Services, 1-10 employees
Used the software for: 6-12 months
mSales - So easy to use.

Overall: Overall, we love it.

Pros: The software is easy to use. Each page is clear to read and there is no clutter.

Cons: Not enough room to write notes for customer visits and at the other end on Peercore, not all the notes are visible on the screen. Notes for customer visits have to be printed to see all the notes. Also there is no access to a customer's details other than their phone number.

Reasons for Choosing mSales: The convenience of being connected to our current system, Peercore.

Helena R.


Product Brand Manager
Food & Beverages, 1-10 employees
Used the software for: Less than 6 months
GF Msales

Overall: In my view, one of the best program available on the market

Pros: Functionality to accessing required information for all individual products.

Cons: None; However, Msales is developing individual product photo enlarging functionality for better product presentation for our customers.

Reasons for Choosing mSales: [SENSITIVE CONTENT HIDDEN] from Msales connected well with our requirements and the product offered (Msales) meet company expectations.

Reasons for Switching to mSales: Business growth and strategies

Mehmet K.


GM
Warehousing, 11-50 employees
Used the software for: 2+ years
Partners & integrators
We are confident that teamwork is the key to achieve the best results and that's why partners are at the forefront of our growth strategy.
We have different partnership categories to provide our customers with a great level of integration and support during the implementation process. Some of our key partners currently are Xero, QuickBooks, Quazar Global, Negete, Muscatech, Bileeta, and Honeywell, and we are constantly growing our partner network that will create new opportunities for our partners and customers alike.
If you are a system integrator, independent software vendor, consulting company or expert with a proven network in your industry or geography, we invite you to explore one of our partnership options.
Find out more on our Partners page
Let's connect
Would you like to be the first to listen about our new features, news and upcoming events? Subscribe to our free newsletter
Do you have any questions or challenges you'd like to discuss with us? Get in touch with our team on our contact page
Find more about us
Download Brochure